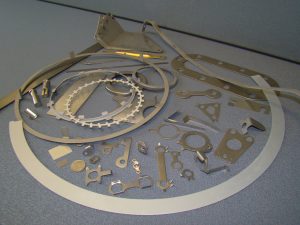 Whether you need a single, simple prototype part, or tens of thousands of complex metal stampings, look to Atlas Stamping and Manufacturing as your primary source. Request a quote or contact us today.
Atlas Stamping & Manufacturing produces a full range of precision metal stamped parts and engineered solutions for component parts. What makes us stand out is our focus on continuous improvement.
Our capabilities include but are not limited to seals, gaskets, washers, brackets, shims and assemblies. We also provide toolmaking, tool design and ancillary services like value-added brazing, plating, coating, and heat-treating. Atlas has the capability to stamp nickel, titanium, stainless steel, cobalt alloys aluminum and high temperature specialty metals that meet a great variety of product requirements.